What a great day – what a great stage 4! Today was the day of the high mountains and beautiful sceneries!
Today was a beautiful sunny day – even if it started with 4 degrees in the morning.
But the breakfast was very good and the best was that my teampartner Thomas was responsible for my coffee (again). 😉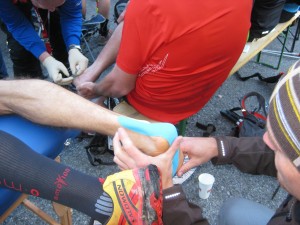 The great physio-team (special greetings and thanks to Claudio) taped us against our small disorders and we started for the 4. stage from Galtür in Austria to Scuol in Switzerland.
It became warmer very fast and during first uphill after the first foodstation at kilometer 10 (very tough so we were climbing very much the time and not running) we did our trails in beautiful sun. Our team strategy for today was "ENJOY" and we took very much time to enjoy the incredible scenery. We did our way over wonderful trails through the mountains and stopped every x minutes to take photos. 😉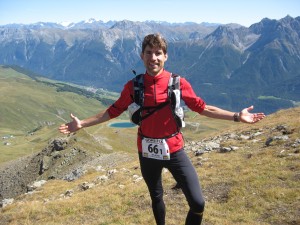 The way up to the Piz Clünas was very tough and steep but we were rewarded with an incredible view over the mountains. On our way back we were stopped/hindered again by our movie team. 🙂 And the mobile phone in the bagsack from Thomas was ringing instantly. So he answered the call. It was his mother who followed us on the internet and wanted to tell us that we might have choosen the wrong way. 🙂 This was very kind of her – but fortunately we were on the right way. The markers are very, very good – the Transalpine team did (not only in this area) a very, very good job!
I want to take the opportunity now to send kind greetings to the Kjerstein family in Denmark following us over the internet!!!
Arrived on the marketplace of Scuol we started our daily recovery – still in the very warm sun.
Now we went to the pasta (polenta-) party and massage already and are looking forward for the "bergsprint" (only 6,x kilometres, but 1000 metres in elevation) tomorrow morning. After that we will enjoy the pasta in the mountains and do some more movie shootings before we will relax the rest of the day.