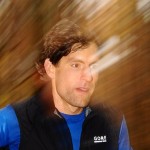 Age: 37
Living in: Dortmund, Germany
Sports: Running, Trailrunning, MTB, Triathlon
Running experiences:
Half-Marathon Heidelberg 2010, Half-Marathon Bremen 2010, Marathon Essen 2010, Half-Marathon Hamm 2011, Half-Marathon Duisburg 2011, Two Oceans Marathon Kapstadt 2012, Rhein-Ruhr-Marathon Duisburg 2012, several 10km and other races
Trailrunning since: 2010
Trailrunning experiences:
Trailrun-Worldmasters 2010 Dortmund, Hermannslauf 2011/2012 Bielefeld, GORETEX-Trailruncamp Dolomites 2011,  Transalpine-Run 2011, Röntgenlauf 2011 Remscheid, Ecco Indoor Trails 2012 Dortmund, Crosslauf "Meerhardt Extreme" 2012, …
Sports and my life:
After almost 30 years of my life without any real sporting activity I started with running to improve my health. Running changed my life – and my way of living over the last years. Now sports (especially running) is an important part of my life: to reach some minor goals but most important for health, for relaxation – and for fun!
With Trailrun-Worldmasters in Dortmund 2010 I was infected by the virus of trailrunning at first. 😉 This was intensed by several more trailrunning events – especially the Transalpine 2011.
I love the combination of sports and nature – and the special challenges of trailrunning in smaller and bigger mountains… motivated by nature!