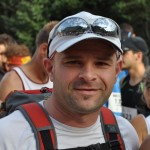 Frank Bauknecht, ein Schwabe aus der Nähe von Metzingen, bekannt durch das Hugo Boss Outlet, wird im Jahr 2011 40ig.
Als Kind spielte ich gerne Fußball und brachte es in der Jugend auch bis zur Auswahlmannschaft. Nach dem das Berufleben begann, blieb nur noch wenig Zeit und so wurde es eine kurze aktive Fußballerzeit.
Jedoch um einigermaßen fit zu bleiben, wurde unregelmäßig gejoggt. Vor ca. 3 Jahren begann aus dem Laufen Leidenschaft zu werden. Jedoch nicht die Jagd nach Bestzeiten war die Motivation, sondern etwas zu erleben und Ziele zu erreichen. Seit 2 Jahren ist Trailrunning ganz oben auf der Liste. Der Lauf durch die Natur gibt dem Körper und der Seele Kraft.

Frank Bauknecht, a Swabian from near Metzingen, known for the Hugo Boss Outlet will become 40 years old in 2011.
As a kid I liked to play soccer and made it in youth into the selection team. After starting working life only a little time remained and so it was a short active time for soccer.
However, to keep fit, sporadic jogging was started. Approx. 3 years ago running became passion: Not motivated to hunt the best times but to make experiences and achieve personal goals. Trail Running is high on the list for 2 years now. The drive through the countryside gives power to the body and soul.
Latest posts from Franky
Some pictures from Franky
[nggallery id=1]