The days here have their different challenges: The heat on day 1, the long distance and elevation yesterday – and today the very bad weather.
The race-director and his team decided yesterday in the evening to cancel the planned route due to heavy weather conditions on the first mountain top (thunderstorms predicted).
But the new route was not shorter or even easier. Only the start at 9:00 o'clock instead of 7:00 was "easier" for us. 🙂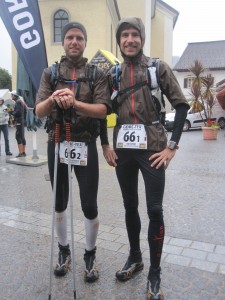 The hardest thing to fight again was the steadily rain and the cold wind in the mountains (approx. 5 degrees cold) – even in GORE-TEX-clothes :-). On several kilometres high in the mountains we had to find our way to mud and over slippery stones. Even for hiking in good weather this path would have been a challenge…
But again we noticed the importance of a good team. We motivated each other during the tired or aching times we had. And we were singing again (like in the Dolomites). The scenery around us would have been worth to be even more noticed than it was possible through the fog and rain from out the caps of our rain jackets…
On the food stations we were supported beneath all other "used" stuff by hot soup (incredible the great taste of a simple tomatoe bouillon…) and of course we had time (and fun) to make some special shots with our movie team high above in the mountains at 2300 metres.
But we were happy to reach Galtür in the end after 43 kilometres. And are looking forward for the pasta party now. 🙂