Yeah – we did it! We passed the longest and hardest stage of any Transalpine-Run: almost 54 kilometres and more than 2500 metres in ascend.
For me this was the longest run ever and it is a great feeling that I can achieve very high goals even if you can not estimate this before!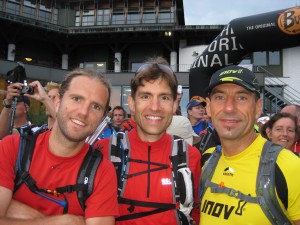 Today this was only possible with support by my great team partner(s). Gerhard moved to our team today because his partner had to cancel the race yesterday (physical problems). Welcome, Gerhard, to motivatedbynature.eu! It was a great day with Thomas and you today! 🙂
Our team strategy for today was to forget any speed, only "SURVIVE". And we survived with very much fun! What trails and sceneries again today – incredible! And we reached the finish line 5 minutes before the heavy rain starts…
For tomorrow the race director postponed the start to 9:00 o'clock due to heave weather conditions and we are happy that we don't have to wake up at 5:00 tomorrow again. 🙂 More information about the new route we will receive at the briefing at this evening. Looking forward for the next days (even if there is rain or if there are more/less kilometres)!