Wow – what a first day! The promise from moderator before starting the race was not wrong: "For today it is not the HIGHWAY TO HELL" (the song is played before every TAR day) – "Today the trails will be the HIGHWAY TO PARADISE!" 🙂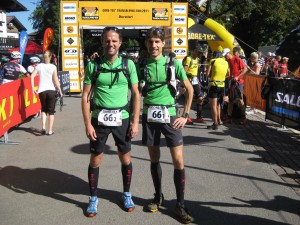 Even it was very hot during some uphills the trails in the sun and the beautiful scenery were really great!
Thomas and me had a great day! We found our good pace, had intense conversations, performed some short songs, had good recovery at the supporting stations and especially at the finish (incredible the support with fruits, food, drinks, cakes, … by Plan-B, GORE and the local supporters) – and WE HAD FUN! So the first 28 kilometres with an elevation of 1800 metres were not a big problem for us. But the next days will become a little bit harder. And the weather should change also. But we will go ahead with fun. 🙂
Even if tomorrow the longest/hardest stage since the beginning of the TransAlpineRun is waiting for us: 53km and almost 2500 metres elevation (http://www.transalpine-run.com/alpen_cross_strecke.htm).