Due to some organizational problems I unfortunately missed my scheduled flight for this afternoon. But I found another solution (thanks to great team partner Franky who will pick me up at Munich airport even late in the evening…)!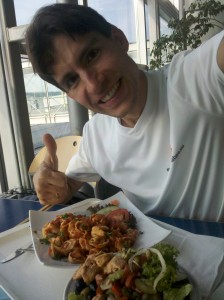 Sometimes "happy steps" move to some kind of "harder steps" but I am looking so forward to meet our team, all trailrunners from the Dolomites and from all over the world and the whole staff from TAR in Oberstdorf! Motivated by nature, but now from friends and by love also – hope to take very much energy from some days in the Alps.
My preparation was mixed up the last days a little bit but I got me, my shoes, my GORE-stuff – and some pasta alone in the restaurant at small airport Muenster/Osnabrueck now. What is needed more?! 🙂
Will keep you up to date soon and hope that live-tracking will work tomorrow (we are starting "late" at 11:00).