The fifth day of TAR was our shortest day – and a day for recovery.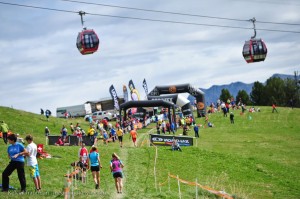 The "Bergsprint" up to the mountain Motta Naluns (approx. 6 kilometres and almost 1000 metres in elevation) was our challenge for today. First time we had not to take all our stuff with our bagsack and first time we were allowed to run alone (no checks if there is a distance between you and your teampartner more than 2 minutes – which will cause time penalties/disqualification at all other days).
I decided to "power out" a little bit and because uphill is my special discipline (I like it much more like the downhills – did I tell you before?! 😉 ) I went up to the mountain as fast as I can. And with a time just below 48:30 I am ranked on 29 from all TAR-runners now. So I am very satisfied for today and will no longer bother Thomas and Gerhard to run faster the next days. 🙂 Even if I know that our team strategy (slow down, enjoy the nature, keep your power)  is the best to reach Latsch in good mood and shape…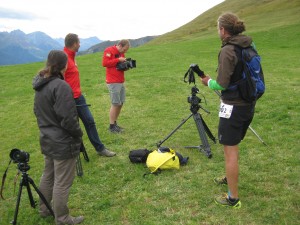 The pasta party was up on the mountain in the restaurant and after that we went out with Miriam, Gerhard and Hans-Peter (from "Film und Kontext") to make some movie clips for "slow motion". We had very much fun again – and what we can see on small camera display was amazing already!
After that we went to the bath/spa in Scuol and relaxed two hours in the Sauna and went out for a pizza for dinner. Because we have to be up tomorrow very early again this will not become the longest article also. Good night! 🙂