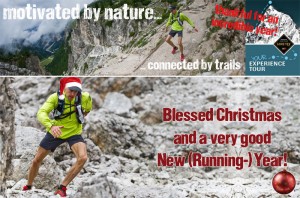 What an incredible (running-) year 2011! With invitation to the GORE-trailruncamp in the Dolomites a fantastic journey started for me – with so many great experiences, impressing happenings and great human encounters!
All this gave/gives me so much power and energy – even for some harder months this year. Great to know that it is no problem to climb different mountains/solve (nearly) any problem arising. THANKFUL FOR AN INCREDIBLE YEAR!
Find a "short" summary of this year 2011 below:
Winter/Spring: different activities/some races
I was steadily on the run the whole winter (without any strategic plan but with different training workouts with running, indoor-cycling, gym/weights/stabilization, … or trailruns during weekend holidays in near Sauerland), I felt fit in early Spring – but II had no big plans for 2011. For fun I took part in some races which fitted my schedule or where friends of me took part also: a half marathon in Hamm in February or later the half marathon in Duisburg in May (one day after a great nature >100km-MTB-marathon around Dortmund).
April: Hermannslauf
Since Trailrun Worldmasters in 2010 in Dortmund I was infected by the trailrun virus. So I took part in Hermannslauf in April (a scenery race about 31,1 km with approx. 500/600 metres of elevation) – and had very much fun (beside an unexpected good time achieved)!
July: GORE-trailruncamp in the Dolomites
In July I was invited by GORE to the really incredible trailruncamp in the Dolomites! There I made fantastic experiences: amazing scenery in the mountains, great workouts/runs, cool GORE-stuff, meeting interesting people from all over Europe, … Won't forget these days! More here…
September: Transalpine-Run (TAR)
During the trailruncamp I met "Danish dynamite" Thomas from Denmark and we decided to team up and start with Transalpine together. And again I received the present to experience wonderful and very impressive days. We finished the TAR after great days in a very good health and mood. For all other impressions you can read the daily stories in this blog – it's not possible to describe this experience here in full without blowing up the blog…
October: Röntgenlauf
Back home I had to climb some private mountains – but this was successful also. So in October I was able to find a trail-marathon in my area which fitted my schedule again: The Röntgenlauf in Remscheid (42,2 km, with approx. 600-700 metres of elevation). I started without any big pretentions again and had very much fun during the run through beautiful scenery. Finally I reached the goal in very astonishing third position. More here…
November: LT Bittermark ("team run" BarbaraRunde SUS Oberaden)
During the whole year my local running club LT Bittermark Dortmund was very important for me (weekly training, meeting friends, funny events like the free beer after HM in Duisburg, …). With several members we took part in the 10km running race "BarbaraRunde" in November. Spontaneous I made a team run with our fastest women – which won the race finally in a new course record (and which motivated me to a new personal 10km record same time). Running is team sport also…
December: Hagen Hills Trailrun
A great year-end closing was the Hagen Hills Trailrun in December. Marco Losch invited us to a 45km-run around Hagen – and to a great after run party with hot wine punch, cake, sausages, … It was great to meet other trailrunners from our area – and even Janina and Peter from Munich and Ricarda and Niels from Switzerland which I met first in the Dolomites/at Transalpine.
The journey will continue: Pearl Izumi "trailrunning face"
The unexpected trailrun journey will continue in 2012: Of course because of all the fun and the reason that I was more and more infected during this year – but even because of the next happenings: With Facebook photo contest from Pearl Izumi I won not only a pair of new shoes (PEAK II – a great shoe!) but I was chosen as "trailrunning face" also. In Spring 2012 I will be invited to a photo shooting in the moutains with Pearl Izumi stuff.
Really an incredible year – in private and in all running areas…
Very thankful for all the blessings from above during this year I will celebrate Christmas with my family now and move into a new year 2012 after "Silvesterlauf" Werl-Soest. Thank you all friends for this what we experienced together! Blessed Christmas and a very good New (Running-) Year!