…even if my last posting is a little bit old!
As I mentioned in my last post I had to climb some mountains in private life – but all the incredible experiences this summer gave me so much energy that this was no problem at all. I am back on the top again – and can (still/again) see the sun! 🙂
If you are (still) interested in some more information/pictures/movies/articles about the Transalpine 2011 find below some more links/downloads: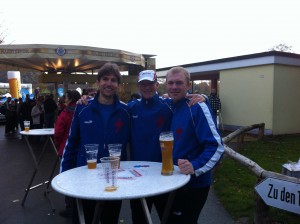 Of course I am not only collecting memories/souvenirs about Transalpine 2011. Since TAR I am still running, maybe with much more fun (if possible anyhow). 😉
I continued my training/workouts even if I added some more cross training (cycling, biking, gym) and moved the priority to culinary pleasure sometimes (when visiting my favourite ice bar for a waffle with ice cream during endurance training for example). 😉
For a little "summary" of this incredible (running-) year I did some investigation about a marathon near Dortmund located in nature and with an interesting elevation profile. The "Rothaarsteig-marathon" did not fit with my schedule so I chose the Röntgenlauf (marathon also) in Lennep-Remscheid on 31.10.2011 to power out a little bit – but without big efforts for more or less seconds.
What a great choice! Really a great run through beautiful scenery with some "minor" up- and downhills and a very good organization and event atmosphere. And very good supplement with "Marathon-Schnecken" (sweet cakes with marzipan and rosines) after the race. 🙂
Without any special preparations and no real plannings about any placement and time I started the run – wearing my shirt "motivated by nature" and thinking of all the power and experiences from TAR. Later I heard that Thomas finished a nightrun-marathon the same weekend – great!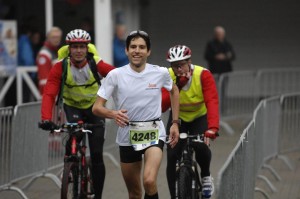 During first 20 kilometers I felt were good (and in general until the end also…) – running together with all runners for half-marathon, marathon, ultra-marathon and relay ultra-marathon. So I had no idea about any ranking until the half of the race. After half-marathon many runners left the route to their finish and I "was alone" – until two Mountainbikers joined me. I wanted to let them pass but they told me that they will accompany me from now on. What a great support by the very kind guys Martin and Maik – both very experienced MTBler (24-hour-races) and runner-supporters (they accompanied Joey Kelly with his runs several times before)! They motivated me, gave me some touristic information about the region, organized the water – and checked the runners after and in front of me.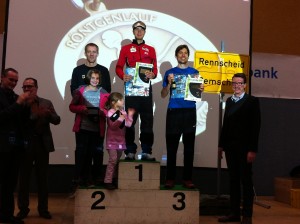 So I knew that I am on ranking four at kilometer 25 with 1 minute delay to the runner no. 3 – and was able to catch him at kilometer 35. Rank 3 after a great run through beautiful scenery with very much fun – what an incredible running-day!
But the year did not end until now – and there were (are?) still further great experiences and surprises! The next posting will follow soon… 🙂