On our last stage for Transalpine-Run 2011 we had to climb one last mountain ("Göflaner Scharte" – approx. 2450 meters high). But this climbing was easier than the day before because most of the time the underground were small paths and not stones. On top I enjoyed my schoko croissant. 🙂
But after the top the hard part of the stage begun: The downhill. All of us had some more or less pain in the legs and feet during this last downhill of the TAR 2011. But our team did a very good job again – as we did the whole Transalpine-Run! Our primary goal was to reach the finish in Latsch in a good mood and shape/health – and WE DID IT!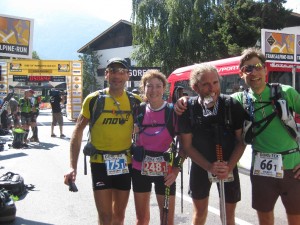 Franky came along with us some parts of the last stage and awaited us just before the finish line – with a 1,5 litres bottle of champagne. So we took a champagne shower after reaching the finish line! 🙂
After that we continued our celebration with a little bit relaxing, with meeting other runners, enjoying Bratwurst and ice cream, …
The shower powered us up again and we went to the last pasta party, the official award ceremony and the award of the finisher shirts! And of course our movie team was still very active and we had to give a last long interview with a retrospective of the Transalpine-Run.
What an incredible time!
Beside the great experience of "real" trail-running in the mountains (even much slower than I am used to run…) through beautiful sceneries/landscapes and nature (which gave me countless of energy) there were so many other great happenings during this week: Our very good team which reached the goals in a best way (and with very much fun – a deep THANK YOU, Thomas), countless meetings and conversations with very kind and interesting people all over the world (runners and staff), a perfect event organization from PLAN-B and GORE-TEX (nobody can imagine this event which is so different from any other city run I have known before), …, and so much more!
With all these happiness and the great experiences we are very happy to come back to our wifes, families and friends now also – and all minor and major mountains waiting at home for us. But now we know we can climb (almost) every mountain…