We started the day of stage 7 with two more new team members: Ursula and Florian joined us – Malika had to quit because of blisters all over her feet 🙁 and Martin went out yesterday due to physical problems also.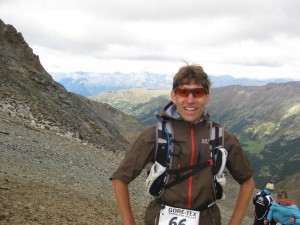 Today the highest trail of the Transalpine-Run 2011 was to go. The first small uphills started soon but until kilometer 15 we were able to run most of the time.
After first foodstation the climbing started. The paths became more and more hard, steep and tricky and the last kilometres (and almost 1000 metres in elevation) we had to climb over stones.
At the "Rappenscharte" we were above 3000 meters. On our way up we passed little "snowy" glacers and most of the time there was a beautiful scenery again – and an incredible panorama view of course!
After that a very long and steep downhill started. This was quite hard for legs and feet and we were happy to reach the second foodstation (half of the way down) where the very kind staff powered us up (as usual) with cake, fruits, nuts, energy bars, bread, cheese, salted tomatoes/cucumber, energy drinks, water, …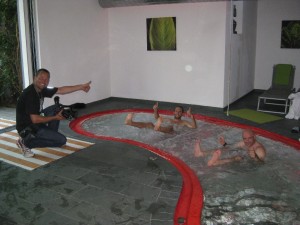 At the finish line Franky waited for us – what a great surprise! He will manage us/run with us the last day tomorrow!
And he stays in the same hotel: the Bamboo hotel in Latsch with a great wellness area! We used the remaining hour to relax a little bit in the whirlpool. Of course accompained by our movie team. 🙂
After a great pasta party (with meat and pommes frites 🙂 ) open air in Schlanders we are looking forward for the last stage tomorrow – and THE FINISH!